"Say you're sorry."
Silence.
Look that only mothers can give.
"I"m sorry." (barely audible and with the least amount of emotion possible)
"Now, what do you say?"
"I forgive you."
The above exchange plays out in millions of homes, schools, and playgrounds every day. We want to teach children to apologize and forgive but fail to generate anything beyond words. Children have both mind-blowingly long and short memories, so normal play resumes fairly quickly, even if the incident will be brought up 3 years (or more) later.
Teaching kids about forgiveness is hard, but it isn't much easier for adults. We stomp and pout when we don't feel the apology sufficient. WE hold on to the bitterness from repeated wrongs.
What do we do when the other person doesn't mean it? or doesn't apologize at all? Do we still forgive when the person who wronged us continues in that abusive pattern without any sign of repentance?
To answer these questions, we have to dive into what forgiveness is and isn't.

I forgave you last time.

Sometimes I am extremely patient with my children. Others I hope the neighbors couldn't hear me yelling and have to cool down and apologize to the beautiful humans I created. And I do apologize. But sometimes I find myself apologizing for the same mistake I made last time I had to apologize. Do I mean it? Absolutely. Why did I do it again? I didn't plan to continue my angry outbursts. It's not an intentional abusive pattern (as we will discuss later). But it is a repeated sin. And I start here because I tend to have more compassion for my own mistakes than others.
When I think about forgiveness, one of the first passages that jumps to mind is Jesus's instruction to forgive repeatedly:
Then Peter came to Jesus and asked, "Lord, how many times shall I forgive my brother or sister who sins against me? Up to seven times?" Jesus answered, "I tell you, not seven times, but seventy-seven times."

Matthew 18:21-22
Who does that? Who sins the same way over and over even after recognizing that the action was wrong? Me. I'm who does that. And I have a feeling, you sit thinking of sin you acknowledge but repeat as well. When we look at forgiveness, we must first see ourselves not as the forgiver but as the forgiven. Only then can we have the right perspective.
.
Forgiven People Forgive People.

In the next breath after answering Peter's question, Jesus launches into a Parable to change Peter's perspective. It's the Parable of the wicked servant, and one of my most personally convicting passages of scripture.
A servant owes the king an insurmountable debt. He could never pay it under any circumstances. As he was unable to pay, the king ordered the man and his family sold as slaves to pay the debt. The man begged the king for mercy and a chance to pay (we already know he could never pay it). In response, the king forgives the debt completely without conditions or reservations.
The forgiven servant then (perhaps as he's leaving the castle) finds someone that owes him a debt tiny in comparison to what he's just had forgiven. He demands payment and the debtor responds with the SAME verbatim plea that he made to the king. Instead of mercy, however, the forgiven servant sends his debtor to prison until he can pay.
Cue righteous indignation upon first reading.
The king learned of his servant's actions and bring him back before him. He confronts his servant with his hypocrisy and sends him to prison to be tortured until he can pay.
It's easy to feel good about accessing this situation rightly until you read Jesus's next words:
"This is how my heavenly Father will treat each of you unless you forgive your brother or sister from your heart."

Matthew 18:35
I'm the wicked servant. When I hold onto my indignation that someone has wronged me instead, I turn a blind eye to my own sins. God has forgiven me much. Even great hurt becomes small when viewed from the perspective of one forgiven by God.

But She's Wrong.

Forgiveness does not excuse wrong behavior. When Jesus said "You're sins are forgiven," it was never a license to continue in sin. In fact, he told the woman caught in adultery to "Go and sin no more." Forgiveness is a release for the "wronged" party – the unclenching of a fist holding the action against the other. It's the release of vengeance – the recognition that retribution is God's hands, and I have no right to it.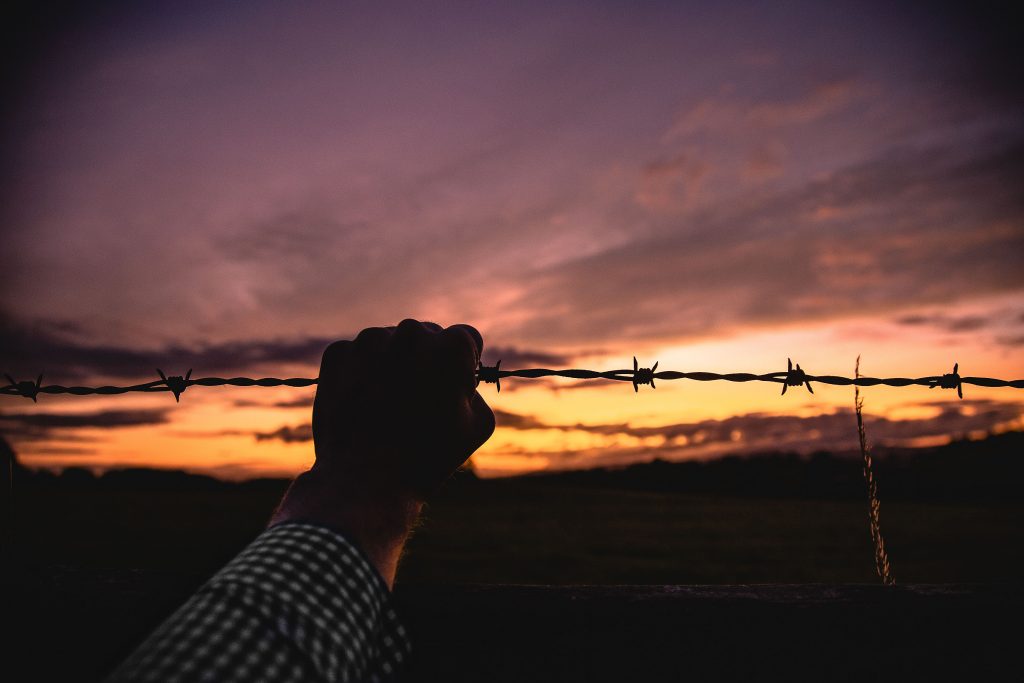 Forgiveness has everything to with me and almost nothing to do with the other person. It is a step in my healing. When someone wrongs me, that person has to deal with her own actions. She is wholly responsible for them, but I am commanded to forgive regardless of what she does.
Forgiveness deals with the condition of my heart, not the rightness of my position. I will never be righteous enough to excuse or allow me to hold bitterness and superiority over another person.
We can forgive people that don't deserve forgiveness because we don't deserve God's forgiveness. It was freely given to us, and in turn, we are commanded to forgive freely. Forgiving others cannot depend on the wronged party any more than our salvation depends on us. We forgive because we were forgiven.

We Can't Be Friends

Forgiveness and reconciliation are not the same things. Because forgiveness depends on me, not the other person, I will sometimes forgive those that remain unrepentant. I'm not talking about someone who is dealing with sin but struggling.
Forgiveness is not submission to abuse. It isn't staying in a one-sided friendship where apologies never come or aren't sincere. Turning the other cheek is releasing your "right" to retribution, not instruction to maintain abusive relationships.
Abusive people will often claim secret repentance and demand reconciliation. It's okay to build back what's lost over time. David laments his sin in Psalm 51. At the end he looks to the future with he will serve God, recognizing that restoration takes time. (See Terkeurst, Lysa. It's Not Supposed to Be This Way. 135-38.)
NOTE: Abusive marriage relationships are too complex to offer general advice in a blog. If you are in danger, make a safety plan and get someone where safe. Call 800.799.SAFE (7233) Talk with a pastor or someone you trust.
Christians should desire reconciliation. Dustin Benge reminds us, "If the gospel can reconcile a holy God and sinful man, it has more than enough power to reconcile sinners with each other." If you've been hurt by someone who refuses to recognize the pain she's caused or the sinfulness of her actions, it's hard to imagine being reconciled. Pray for it. Hope for it. But deal with your heart and forgive even if it doesn't happen.

The Whole Truth
Forgiveness makes you whole.
It makes peace in your heart even if there is no peace in the situation.
As far as it depends on you, live at peace with everyone.

That's the whole truth.
That's the truth that makes you whole.
Truthfully Yours,
DB
For deeper study on Forgiveness: Forgiving What You Can't Forget by Lysa Terkeurst